In your Organization, if you want your Custom Relationship Management (CRM) system to function at its best, you need a good set of eyes and hands managing it. A CRM Administrator is very important for the success of your database.
A real estate CRM should enable you and your team to effectively service all of your clients. Your prospects, appraisal contacts, vendors and buyers (and for those doing property management, your landlords and tenants) are all clients. Your real estate CRM should be able to market to different groups of your clients through multiple mediums – letters, emails and SMS. It should remind you when to follow up your prospects and appraisals so they won't forget you, but without annoying.
Important Qualities of a CRM are as Follows :
Your real estate CRM should enable you to keep clients for life – it should have functionality available to follow up past buyers, and past vendors so they keep coming back to you year after year.
This person should be willing to grow and change as your organization changes. Your CRM use likely will expand, and this person needs to grow with it.
This role is "user facing." This person needs to understand what a user is trying to do and reach out to them at their level. The more your Administrator understands the business needs of users, the more successful your CRM system will be.
This person must be committed to the success of your entire organization, not just his or her boss or a specific department. This is a team-oriented position.
Real Estate firms receive enquiries for properties, and they are required to provide options on the basis of various criteria such as budget, location, property type. When an enquiry is received, the contact information like name, contact details and property requirements need to be maintained in an organized manner for timely follow-ups. Based on whether the person is interested in buying, leasing or renting a property, the person's search criteria are made note of. These could be property type, which could be residential or commercial, budget, region, city and date of occupation, to name a few. Based on these search criteria the sales executive is expected to provide options to the caller from within the company property database.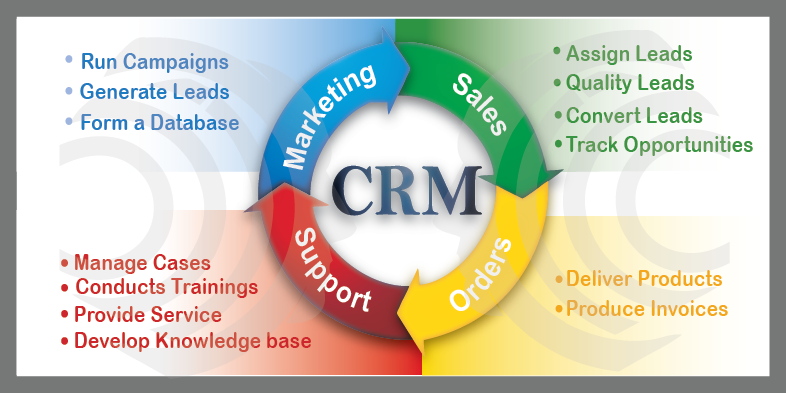 CRM helps to build strong, lifelong relationships with their customers. In addition it supports lead management, sales, marketing, customer care and service as well. It also helps property professionals understand and manage their most valuable asset – their customers and thus contributes to increased profitability.